I have become an avid reader of the ProfHacker blog on the Chronicle website and recently came across some compendium posts loaded with advice for teachers dusting off those syllabi and planning for the start of the Fall semester.  Actually, if you read ProfHacker regularly you would know that the best time to revise your syllabus and course materials is right after the semester ends when all is fresh in your head.  Oh well, it's three months too late for that.  But it's never too late to add some new ideas to those syllabi and your classes.
Not being entirely prepared for a complete syllabus redo, I opted for some measured changes.  Here are the highlights: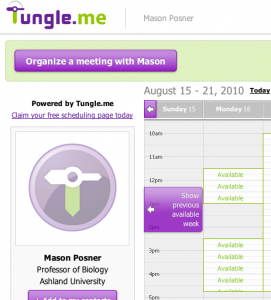 No more static office hours
.  Students don't drop by and many have classes at my scheduled times, so I wind up heading to my lab or go out for coffee.  So this semester I will be doing office hours two different ways.  First, students can make an appointment at a time that works best for them.  OK, this is how I already meet with students.  But the twist this year is that I now have a
Tungle.me page
, a website that knows when I am free and acts as the middleperson to set meeting times for me and my students.  
My Tungle.me page
is linked to my Google calendar so that students can see times when I am free (but not the appointments that I have – those stay private), select times when they would like to meet with me, and when I accept, those appointments are entered automatically into my Google calendar.  Pretty cool.  We'll see if students go for it, and if I can get faculty and administrators to use it to set meeting times with me.  I have been using another free service called
ScheduleOnce
to set our department meeting times, but I plan to use Tungle.me this semester.  The second option for students wanting to meet with me will be through
Google Talk
.  I've tried IMing as a way to chat with students, and was never very happy with it.  Very few students contacted me, so I dropped it.  But this semester I plan to add a Google Talk widget to my course webpage, figuring that students may be on the course page anyway, and if they see a green available chat light they might be more likely to try it.
Some targeted use of our University Angel course management system.
I have used Angel lightly, but much prefer posting materials on
my own personal course webpages
.  But this semester I will be using our Angel site for paper submissions so that I can do all
my grading electronically
and not have to carry around stacks of assignments.  I plan to require students to submit the day before class to avoid last minute, late night writing, and possibly return comments to them prior to class and our discussions.  I am considering setting up my writing assignments, in which students read primary literature and review articles, like a quiz in Angel so that they can cut and paste each of their responses into a specific question field, allowing me to type comments and have them automatically post to each student's Angel page.  I also plan to run my quizzes the same way this semester, having the students take them online prior to class and then grading them through Angel.
A syllabus section summarizing class resources
.  In addition to Angel my course will be using a separate
course webpage
, a
podcast
,
blog
, textbook, and virtual cadaver CD.  Will students know where to go to do what?  This section of the syllabus tries to lay out what exactly these different resources are for, and where they can be found.
A new technology policy
.  Inspired by
another ProfHacker post
, this syllabus paragraph explains why having your e-dog eat your paper is not an excuse for late assignments.  And it adds a plug for the amazing (and free) data backup site
Dropbox
(full disclosure – using this link to get a Dropbox account will add more memory to my account).
A lightening of my no-texting policy.  Now that I often find myself tweeting from conference sessions I have become more immune to others on their phones during class.  But I added a statement to my syllabus about not being rude with technology.
Too much at once?  I don't know.  But you can see the final product – my latest Anatomy and Physiology syllabus –
here
.