An iTunes for science PDFs would be fantastic.  Luckily it already exists.  After trying to organize folder after folder of accumulated journal article PDFs I came across a piece of Mac software about a year ago that manages them for you.  It also has powerful search abilities, will download PDFs and import meta data and has a great support community.  The app is Papers, written by two former PhD students from the Netherlands who now produce science related software for the Mac community.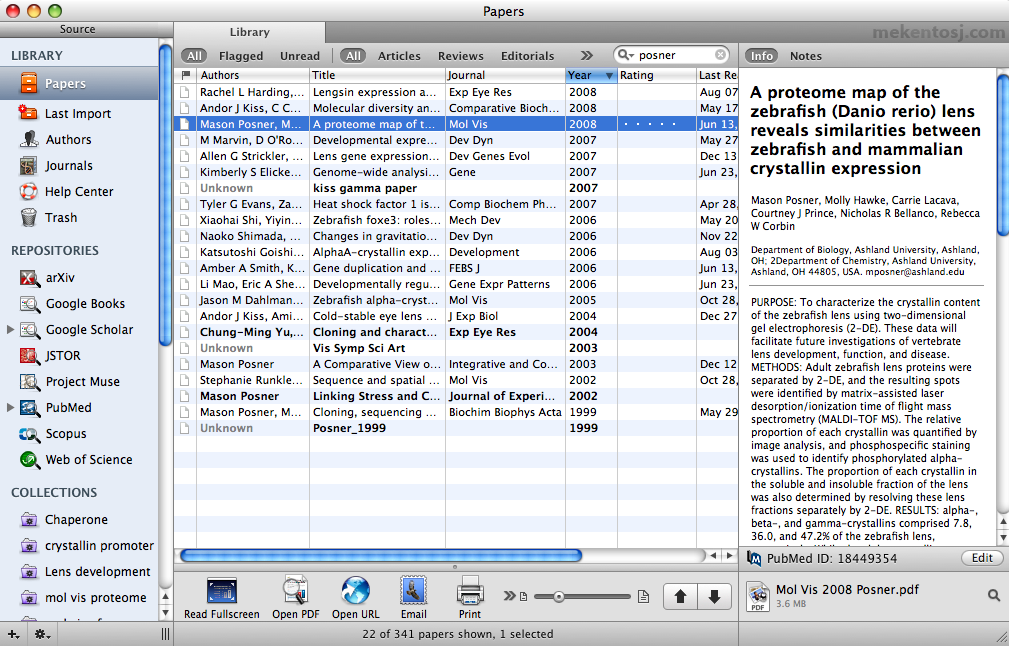 The best feature I have found is how easy it is to search the literature using a variety of search engines, like PubMed and Google Scholar.  There are a bunch of other discipline specific search engines as well.  As you browse your papers it is easy to do a quick keyword search for new articles.  You can easily save your searches, and have them automatically update.  And even better, Papers organizes all of your authors so that you can quickly search for anyones latest papers and then dump them into you library.  You can read a paper in full screen mode, leave notes on them, and open several papers at once in multiple tabs.  I still need to print out papers that I want to read very closely, but the full screen view is good.  And the iPhone version is in the works.  This app does not produce reference lists, so I wind up exporting references from Papers into Endnote when writing manuscripts.  This bit of hassle is worth it to add the organizational and search power not offered by programs like Endnote.  
I have converted one friend already to Mac in part because of this app.  If you are on Mac already you have to check it out.  And I am not getting paid for this endorsement.